Featured Ingredient
What's Inside
Poke a straw through its shell, and you have the perfect poolside drink. But did you know coconuts are packed with gentle, powerful cleaning properties? They're also highly renewable—a single coconut tree can produce over 50 coconuts annually and will fruit for up to 80 years.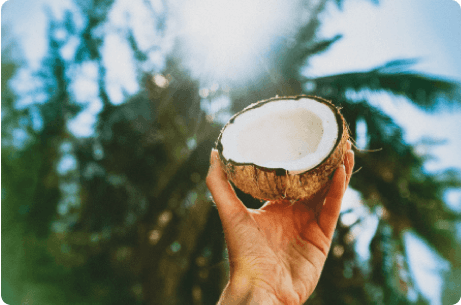 Full ingredient list
Water, Cocamidopropyl Betaine (plant-powered surfactant), Sodium Coco Sulfate (plant-powered surfactant), Cocamidopropylamine Oxide (plant-powered surfactant), Propanediol (plant-powered solvent), Protease (Subtilisin), Alpha-Amylase, Lipase (Enzymatic Blend, soil removers), Sodium Gluconate (plant-powered water softener), Phenoxyethanol (preservative), Natural Fragrance. Linalool (natural fragrance component)
Instructions
For a fresh clean: Always follow garment care instructions. Pour one ounce (roughly 1/4 capful) into the dispenser for HE loads. For top loaders, put two ounces (or half a capful) directly into machine before running water. Works beautifully in all water temperatures. For the toughest stains, ECOS has a stain-pretreat function too! Pour a few drops directly on stain, rub it in, and toss your garment right into the wash to get the best results.
Made with plant-powered ingredients
No dyes, parabens, phosphates or phthalates