Hypoallergenic Laundry Detergent with Enzymes
Plant power + enzymes provide exceptional stain-lifting, deep cleaning power for all of your favorite things. ECOS® Hypoallergenic Laundry Detergent with Enzymes loves colors, whites and all fabrics. Plus, it has a built-in fabric softener to save you a step.
Hypoallergenic Laundry Detergent with Enzymes
Available Scents
Available Sizes
Buy This Product
Featured Ingredient
What's Inside
Poke a straw through its shell, and you have the perfect poolside drink. But did you know coconuts are packed with gentle, powerful cleaning properties? They're also highly renewable—a single coconut tree can produce over 50 coconuts annually and will fruit for up to 80 years.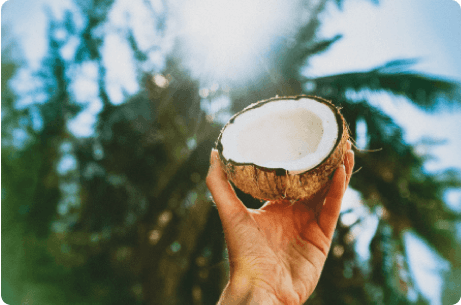 Full ingredient list
Water, Cocamidopropyl Betaine (plant-powered surfactant), Sodium Coco Sulfate (plant-powered surfactant), Cocamidopropylamine Oxide (plant-powered surfactant), Propanediol (plant-powered solvent), Enzymatic Blend (soil remover), Sodium Gluconate (plant-powered water softener), Phenoxyethanol (preservative), Natural Fragrance, Limonene (essential oil component).Learn More
As pioneers in safer cleaning products and ingredient transparency since 1967, we couldn't be more thrilled that California's Cleaning Product Right to Know Act of 2017 has reached a key milestone! This historic law is the first in the U.S. to ensure that ingredients used in household and institutional cleaning products will now be disclosed directly on labels and online. What does this mean?

Millions of consumers and workers in California now have the information they need to protect their health.
Chemical Name
CAS#


(list al CAS# if material is a blend)

Function
Nonfunctional Ingredients*
(please provide concentration
of nonfunctional ingredient if present)
Present on a designated list**
(Y/N)
If yes, wich designated list?
Water
7732-18-5
Solvent
None
N
Cocamidopropyl Betaine
61789-40-0
Surfactant
None
N
Sodium Coco Sulfate
68955-19-1
Surfactant
None
N
Cocamidopropylamine Oxide
68155-09-9
Surfactant
None
N
Propanediol
504-63-2
Solvent
None
N
Sodium Gluconate
527-07-1
Water Softener
None
N
Phenoxyethanol
122-99-6
Preservative
None
N
Protease
9014-01-1
Enzyme
None
N
Amylase
9000-90-2
Enzyme
None
Y
8) Chemicals classified by the European Union in Annex VI to Regulation (EC) 1272/2008 as respiratory sensitizer category 1.
Natural Fragrance Blend
Proprietary Mixture
Fragrance
None
N
Lipase
5989-27-5
Enzyme
None
N
Limonene
5989-27-5
Fragrance component
None
Y
Annex III of the EU Cosmetics Regulation No. 1223/2009
Instructions
For a fresh clean: Always follow garment care instructions. Pour one ounce (roughly 1/4 capful) into the dispenser for HE loads. For top loaders, put two ounces (or half a capful) directly into machine before running water. Works beautifully in all water temperatures. For the toughest stains, ECOS has a stain-pretreat function too! Pour a few drops directly on stain, rub it in, and toss your garment right into the wash to get the best results.
Made with plant-powered ingredients
No dyes, parabens, phosphates or phthalates