Why we are Going Green for Pink and how you can too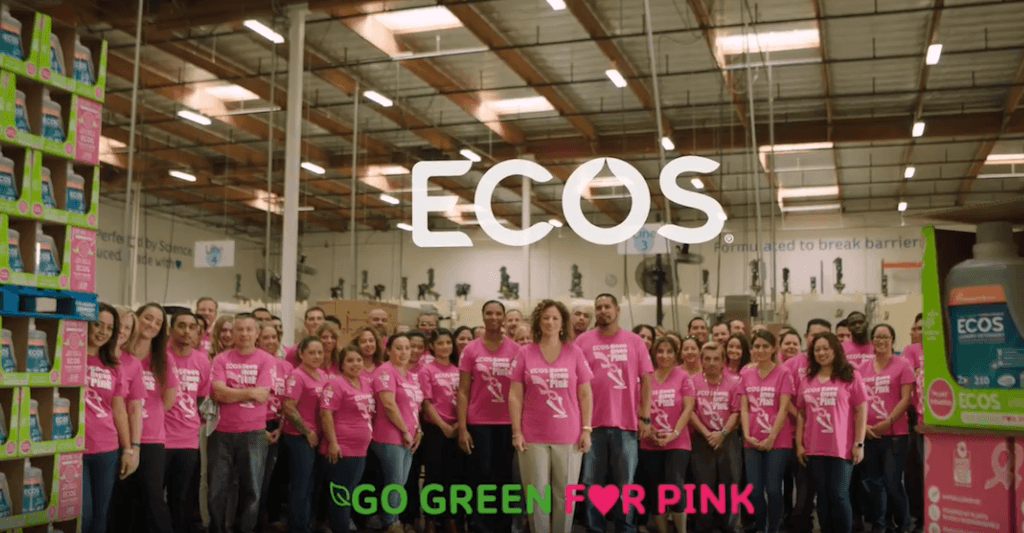 Our president and CEO Kelly Vlahakis-Hanks has been a passionate advocate of breast cancer awareness for nearly a decade. After losing her mother to the disease shortly after her own daughter's birth, she became involved with the American Cancer Society and their Making Strides Against Breast Cancer events. With breast cancer as the second leading cause of cancer death for women in the U.S., EFP employees have rallied around her and the cause, many affected in some way by the disease, either personally or through a loved one who has been diagnosed.
Since 2008, Kelly and #TeamECOS have helped raised roughly $20,000 each year for Making Strides.
This year, we have expanded our partnership with the American Cancer Society through Go Green for Pink, a national campaign that will appear at ECOS retailers across the country during breast cancer awareness month. For every 100 oz. or larger bottle of ECOS™ Laundry Detergent you buy, Earth Friendly Products will contribute $1 (up to $100,000) to ACS to support breast cancer research, support programs and patient services. (More details can be found here.)
The American Cancer Society invests more in breast cancer research than any other cancer type through 159 research and training grants investigating all areas of the disease. Additionally, ACS provides critical patient support programs that address entire breast cancer experience, from prevention and diagnosis to treatment and survivorship. You can learn more about ACS' breast cancer initiatives in their comprehensive Breast Cancer Facts & Figures report.
EFP's employee-led campaign to raise funds on behalf of Making Strides is also in full swing! If you're looking to get involved in a fun and easy way, we invite you to join and/or support #TeamECOS. You can even start your own team by logging on to the Making Strides website and signing up for a local walk near you. Last year, more than 1.2 million Making Strides participants came together to help raise $60 million to fight breast cancer.
As a team led by mothers, daughters, sisters, scientists and cancer survivors, we invite you to join us in the fight against breast cancer, whether that's by buying ECOS™ Laundry Detergent, supporting our Making Strides team, walking in your local Strides walk or by simply sharing our campaign. Show us what you're doing to spread breast cancer awareness this month by hashtagging #gogreenforpink on social media.
ACS does not endorse any product or service.